---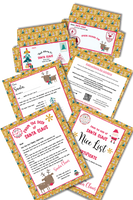 Santa Letters and Nice Certificate: Reindeer
Get the kids to write to Santa. In return they will get a letter back from Santa plus a Nice Certificate.
Just write in the child's name and address and post the letter or have it magically appear in your home.
You will get:
A template letter your child can write and send to Santa
A themed envelope for the letter to Santa (print and stick)
A letter back from Santa
A Nice List certificate
A themed envelope for the letter and certificate (print and stick)
Looking for more Christmas activities?
Get your indoor Christmas treasure hunt clues here >>
Get your outdoor Christmas treasure hunt clues here >>
Get Christmas coloring and activity worksheets here >>
Print on US letter paper  (UK:A4 paper)
You will receive a digital PDF and no physical item will be shipped
For personal use only - not for commercial use
First, you must purchase the product. To do so, find the printable(s) that you would like to buy and click the "Add To Cart" button as seen below. Once in your cart, click on your cart in the top right.

From there, click checkout.
Next, fill in your details and move to the payment stage by selecting one of the options.
Then, type in your payment details and continue. From there, you should receive 2 emails from Shopify. One of which is an order confirmation and the other is an email with a button that says "Access here" and has a 30 day expiration. This should download your file. Your file will either come as a PDF or a .ZIP file which has your PDFs inside.
To then print off your printable, open the PDF. If your computer won't open the PDF, download the free app "Adobe Reader" from here
 Then select the print option in the top right. Finally, enjoy your printable!

HOW TO UNZIP A .ZIP FILE
For Windows
To unzip your .ZIP folder on Windows, find the .ZIP folder, usually, it will be in your downloads folder. From there, right-click the file and press "Extract All". This will make a new folder with all your PDFs inside.

For MacOS
Download the free to use 'Unarchiver' app. From there, find your .ZIP file and right-click in. Select "Open With" and then the Unarchiver application. Then press "Extract". This should have made a new file with your PDFs inside.