---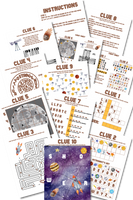 Sale
Quick to set up, fun way to end the day!
My son recently discovered escape rooms last year with a box set and this one was a fabulous bedtime option for us as it's both short and ended in the shower! A great way to get him moving and keep him away from the screens at the end of the day. I purchased the pirate one at the same time and I'm looking forward to a quiet night where we can try that one out too.
Thank you so much for your lovely comments. I'm so glad that you and your son had fun together.